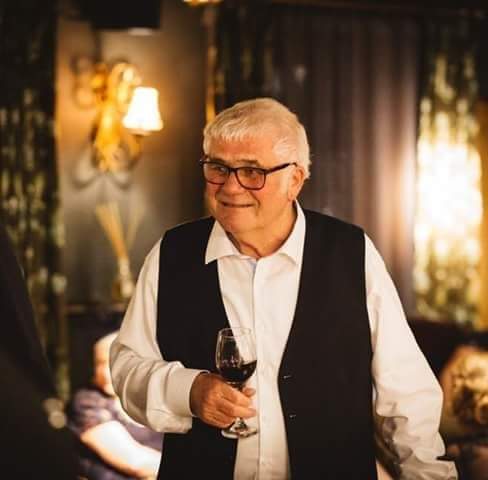 Many thanks to our hostess and jazz promoter Val and her team for organising and booking Doc's New Orleans band to play 8.30p.m. Thursday 12th March 2020 at the Swan Chaddersly Corbett Jazz Club. By 7.45p.m. The venue was filling up with people and was soon filled with the sound of New Orleans Jazz.
Doc Houlind's band has a great passion for what some might call "Real New Orleans Jazz". It is the jazz that was introduced to Europe by several American bands in the 1950s and 60s. Liz and I took the 500 mile round trip from our home to hear this band. The band actually did well over 2500 road miles to play the 13 gigs in the UK.

As soon as the band kicked off and started playing for us, every inch of our five hour drive was well worth it. The energy and overall big sound filled the packed room with the "second phase sound" of New Orleans Jazz, which includes the influences of Kid Shots, George Lewis, Jim Robinson, Kid Ory, Baby Dodds, Pops Foster and Alton Purnel and others in this genre. Doc Houlind's band clearly does not strictly copy any of those mentioned above but they do play personal, inspired, passionate and exciting jazz.

Their tasteful ensemble work and backed individual solos emerging like a colourful butterfly from a chrysalis of jewellery. The melody line of the tunes they play are always clearly present. Blues and soulful love songs are tastefully played expressing the meaning of the composers heart felt thoughts. The George Lewis clarinet solo piece "Saint Louis Street" was played with real command, depth of feeling and emotion by Jesper.

So who was the person of the match? for us there wasn't one. They were all equally strong, playing their respective parts to create a wonderful jazz adventure with all the light and shades of a beautiful rainbow.

The band personnel are: Doc Houlind, drums, vocals and leader, Kristian Barfoed, trombone, Jesper Capion Larson, clarinet, Lis Krøyer, piano, all from Denmark. Ragnar Tretow, trumpet from Sweden and Brian Turnock, bass, from Belgium. Sadly there are now only a few bands left playing this kind of music because many have passed on. Four of the band personnel are now into their seventies. But, to coin a phrase from a listener who once said to a band we were playing in "you are all much more livelier than you look", I think that just about says it all. The band certainly waste no time between tunes. As soon as one is finished Doc announces the next one and away they go with loads of enthusiasm. This clearly indicates they love playing their jazz music. Liz and I are now marking our diaries for their next tour to the UK September 2.
Paul Bacon – www.baconsjazz.co.uk
---
---
Aviserne skrev: